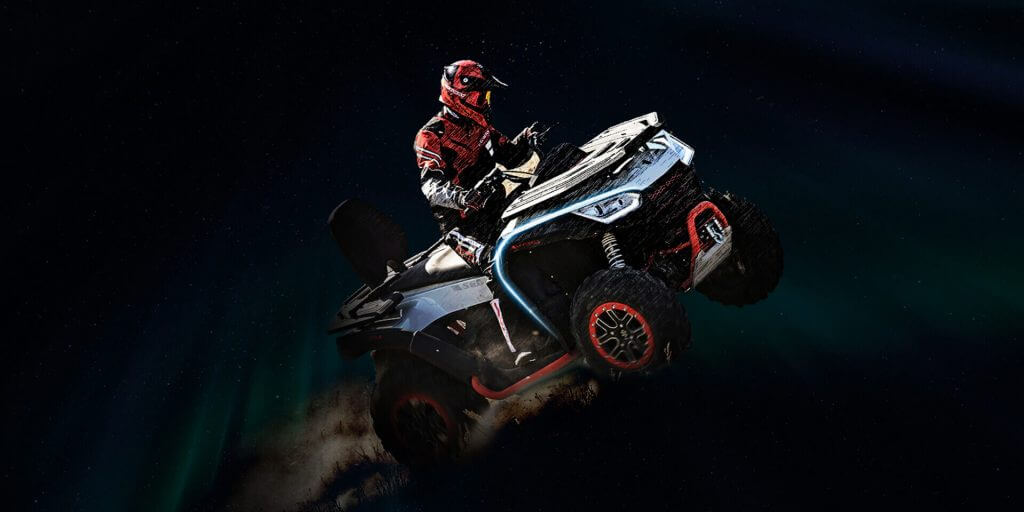 The much-anticipated Segway Powersports range has reached UK dealerships with customers already taking to the dirt on their new Snarler machines!
With its aggressively-styled LED headlights, the new ATV Snarler 'quad' is the first product available in the formidable line-up for this all-new brand, which has been developed in keeping with the Segway Powersports motto 'Fear No Place'.
UK importers, Dualways, have fulfilled the eagerly-awaited first shipment, with dealerships handing over machines to customers from Scotland to Torquay.
The rugged machines are powered by a fuel-injected 570cc 4-stroke powerplant that produces 44HP and 48Nm of torque, making them fun to ride whilst providing plenty of power for carrying and towing. 'On Demand' 2/4WD and variable Power Steering modes give the Snarler different options for varied challenging terrain whilst its 210 mm of suspension travel ensures the machine can take on hard impacts whilst fully loaded.
All Segway Powersports machines benefit from a cutting-edge technology suite which includes a Touch Screen control system, Bluetooth enabled 'Airlock' ignition and a Smartphone Segway Powersports App to programme Driving Modes and access real-time 'ride data' (horsepower, torque, range, mileage, speed). You can also 'Team Up' with friends wirelessly and in the case of a 'roll over' or serious accident, an SOS message will be sent to a chosen contact.
The Snarler is available in three colours and two size formats, with an RRP of £6799.99 S (Short) and £6,999.99 L (Long- with additional backrest).
The first three Segway Powersports platforms will be the Snarler all-terrain vehicle (ATV), the Villain side-by-side (SXS), and the Fugleman utility terrain vehicle (UTV). These machines will be available with petrol engines, and a Paralleled Hybrid Powertrain with a total of nine high-tech, road-legal, high-performance models available for the leisure market.
Dualways MD Henry Maplethorpe commented; "To see our first Segway Powersports machines be handed over to customers and get their initial riding feedback has been fantastic!
The Snarler is the first in the line-up and really does have a market-leading level of chassis, engine and technical specification to enable it to take on 'All Terrain'."
You can stay up to date by following Segway Powersports UK on Facebook, Twitter and Instagram.